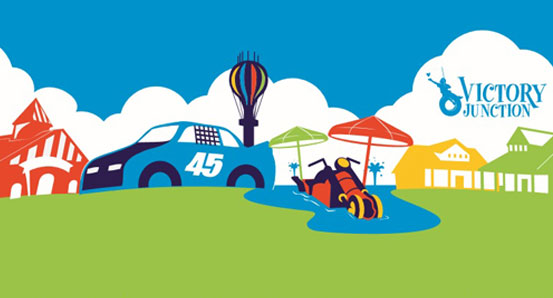 Our Vice President of Sales, Joe May, recently met with Victory Junction, located in Randleman, North Carolina. Inspired by the late, Adam Petty, Victory Junction is a NASCAR-themed camp that is committed to providing the best care possible to children experiencing illnesses or medical treatments. "Located in the hills of Randleman, North Carolina, Victory Junction is spread across 84 acres, allowing children to do what they do best— be kids, play, imagine, make friends and enjoy the adventures and experiences of camp life." - See more here.
Since 2004, over 23,000 campers and their families have been served at Victory Junction and the impact can be felt well beyond the gates that welcome you onto the property. Victory Junction has a store on property that sells merchandise to campers and those who visit the facilities. 100% of the money from the sales at the store go right back into the foundation to help bring more children to camp. They were looking to expand their offerings and bring fresh new products into the store to help spread the mission of Victory Junction. After meeting with members of their team, along with Joe they came up with a list of products that they all believed would do well.
Take a look at the pictures below and see how some of their products were designed and how they came to life. We are still working with Victory Junction to develop these products and updates will be posted as we progress. For more information about Victory Junction visit this link.